History Of The Weirton Christian Center
On May 9, 1909 (the same year that Ernest T. and David Weir and J.C. Williams founded the Weirton Steel Company), Weirton local Mrs. Mollie Wilkens Owings organized a small Baptist Sunday School under an apple tree on Avenue B within blocks of the new mill. This work would soon become Weirton's First Baptist Church. A ministry began for all the children and their families who had come from many cities and nations to Weirton to seek a better life.
In 1917 the Women's American Baptist Home Mission Society sent the first missionary to Weirton to work with the Baptist group to help meet desperate community needs. Mrs. Olive Lord served as that first missionary (1917-1918) and is credited as the founder of the Weirton Christian Center. During those first five years, Christian Center activities were held in local homes and in three houses on Avenue D donated by the Weirton Steel Company. Programs were designed to assist the immigrants who came to work in the mill. By 1922, with help from Weirton Steel, the first part of the Center was erected on Avenue D (adjacent to the original First Baptist Church building).
The Weirton Christian Center soon became the "Community Center" for immigrants new to the area. The center taught English and Citizenship courses and administered immunizations at the health clinic. Over the years, Senior Citizens and other groups met in the club room, high school graduations and other events were held in the gymnasium, and there was even an outdoor pool at the Christian Center. During the 1950s the Center began to emphasize individual-centered programs and established outposts primarily for kindergarten in various locations in the town. The high school boys had a basketball league, and the afterschool program offered dance lessons, drama and plays, formal dances, Bible studies and more.
When kindergarten was added to the public school system in the 1970s, the Center converted its kindergarten to a preschool program. In 1979 due to the declining neighborhood and the deteriorating condition of the building, the Center moved from Avenue D to its present location at 3012 Elm Street, again choosing a neighborhood of great need.
The Christian Center is a recognized mission project of the West Virginia Baptist Convention (American Baptist Churches, USA). The center is one of only 17 Neighborhood Action Program projects sponsored by the Board of National Ministries of the American Baptist Churches in the U.S.A. Funding for the Center comes through the West Virginia Baptist Convention and National Ministries with considerable support of the Weirton United Way as well as individuals both local and national.
The Center Today
PRESCHOOL
We now offer both 3 and 4-year-old Preschool classes each day from 9 AM to 1 PM, led by teachers Glenda King and Billie Jo Carroll. The developmental curriculum involves hands-on stations to not only meet state standards but also reinforce Christian values.  Jana Morehead supervises computer time for each age group, providing instruction on ABC Mouse to add to their education. Cindy Tournay and Tammy Quiroz are aides. We follow the Hancock County School calendar and there is no tuition, only a one-time registration free of $25 for materials. We provide lunch daily and transportation to and from class. This program is supported by our generous donors.
AFTERSCHOOL
The Afterschool program offers a safe haven for children from kindergarten through high school. We provide snacks, homework help, tutoring and many opportunities for them to grow. Volunteers provide lessons in art, music, crafts, dance, cheering and more. Information classes with volunteer instructors are held to educate them on healthy food choices, fitness, drug abuse, violence prevention, safety, self
-reliance and responsibility.= =  =
God's Time is held daily with a devotion for each of the three age groups. Each week we feature a different scripture and theme for our lessons.  We are always looking for positive adult mentors and tutors to volunteer to work with our children.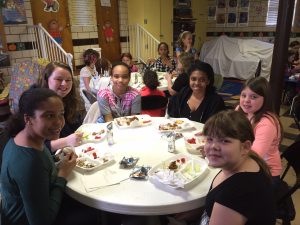 With the help of several local churches (Memorial Baptist Church, Paris Presbyterian Church, Christian Church of Weirton, and New Life Worship Center) we are able to provide dinner for the children on Thursdays. This year, our feeding program is sponsored by Christian Fellowship Foundation. So after a Nutrition program with My Food Pyramid, our kids were able to put their knowledge to use. Middle school students plan the menus and prepare and serve dinner on Tuesdays. Several have received Food Handler Certification.
When we realized that many kids did not have food at home over the long holiday weekend, we decided to continue the "Blessing Bags" started by the All Saints Greek Church during the third annual Thanksgiving dinner for our families.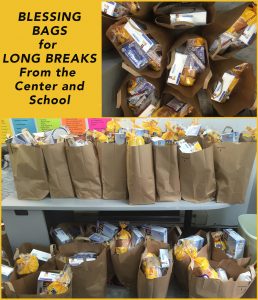 The elementary students decided what healthy foods should go in these bags and they are the ones to pack them the day before each distribution. Each child receives their own bag, and these programs reinforce lessons learned in our nutrition classes.
We also teach them about service to others, such as a 9-11 Appreciation dinner for all those who protect and serve…visiting Weirton Geriatric Center and Wyngate, helping with community projects.
SUMMER PROGRAM
Our summer program at the Weirton Christian Center gives the children 5 hours a day at the center from 11 AM to 4 PM. We offer free lunch plus educational and recreational programs that there is not time for during the school year. Theme weeks in the past have included puppetry, cheerleading, self-defense, Arts and crafts, Vacation Bible School, dance lessons, Service projects, Christian Clown training, literacy programs, summer bowling, field trips and more.  Last year our Summer Theme was the Armor of God and this year, it is SUPER HEROES of the BIBLE.

Summer Church Camp at Elkhorn Valley is a real blessing to these children, and "Jesus Loves You" scholarships are provided by the Christian Fellowship Foundation to allow students to attend camp at no cost to them. Since 2006, we have sent over well over 300 children to camp for summer weeks and retreats. We also provide for all that they will need while they are there, including a freshly laundered sleeping bag. The American Baptist Churches and Women's ministries as well as other donors keep us stocked with hygiene kits, towels, washcloths, beach towels, flashlights, sunscreen, flip flops, swimsuits and even quilts and sheets for those who don't have bedding. A week at camp is life-changing for so many, and they can't wait to go back each year.  Find out more about Elkhorn Valley here.